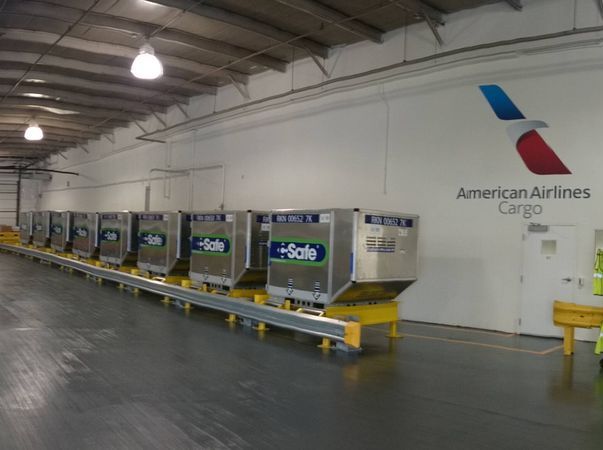 American Airlines Cargo has announced a dedicated suite of products and priorities to make it easier to book Life sciences and healthcare shipments – a segment that has seen a 17% volume increase over the last few years.
The Life Sciences suite offers cargo products designed for time-sensitive shipments. The Priority Parcel Service (PPS) or ExpediteFS services provide next-flight booking options, priority boarding and the shortest tender times. They are also customizable, wuth handling and monitoring capabilities based on the level of handling needed – from prioritized take-off and landing for life-saving medical shipments with MEDEVAC service, to enhanced monitoring and proactive updates with Critical PPS service.
Also included in the suite is American's cold-chain solution, ExpediteTC, which offers active and passive temperature capabilities for shipments which has earned the airline IATA CEIV certification.
Awarded by the International Air Transport Association (IATA), CEIV Pharma certification recognizes air carriers and air cargo supply chains that have established the tools, procedures and staffing to ensure pharmaceuticals are properly handled and maintain product integrity.
American is currently CEIV Pharma certified for its operations in and out of Dallas/Fort Worth International Airport, Philadelphia International, and Miami International. Several other key hubs are expected to be added within the year, supporting connections to Europe, South America and Asia.
American's ExpediteTC solution, founded in 2009, also operates a global network of temperature-controlled facilities, including its dedicated 25,000-square-foot temperature-controlled center in Philadelphia that specializes in pharmaceuticals.
The airline also recently added two new cooler spaces at New York JFK, including a Controlled Room Temperature ranging 15°C to +25°C and a Refrigerated cooler ranging +2°C to +8°C, to further enhance handling capabilities for temperature-sensitive shipments traveling across the Atlantic.
Cargo president Jessica Tyler, said: "We are proud to support our customers and partners along the supply chain in transporting important medical and life-saving shipments around the globe. This dedicated product suite for Life Sciences, as well as our continued investment in our cold chain capabilities, is testament to our commitment to this critical market and the people behind it."