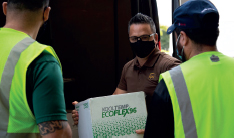 UPS says it has now delivered a billion Covid-19 vaccine doses – and with near-perfect on-time accuracy in just a year.
The global UPS network and dedicated UPS employees not only supported healthcare customers and global organizations, but also joined in public-private partnerships to provide vaccines and cold chain expertise to countries with hard-to-reach populations. To achieve this, UPS Healthcare mapped roughly 500 trade lanes to enable seamless worldwide vaccine shipments and used more than 3m lbs of dry ice to help safely move vaccines.
The carrier donated ultra-cold freezer and made in-kind vaccine deliveries to remote and rural areas throughout Africa, South America, Asia, North America, and Europe through the UPS Foundation.
It set up three regional 24-hour UPS Healthcare Command Centers to predict and manage global vaccine movement with contingency plans and solutions to mitigate the risks of extreme weather and other obstacles
It also partnered with the Gavi vaccine alliance in Africa and other organizations to train and manage ultra-cold vaccine movement and embedded UPS logistic experts in countries including Indonesia and Malawi to fully and safely manage vaccine distribution logistics.
It also delivered vaccines by drone to clinics in the US and Africa through the partnership between specialist delivery company Zipline and Gavi.
Chief sales and solutions officer and executive vice president, UPS Global Healthcare Kate Gutmann, declared: "UPSers have been essential in the fight against Covid-19, delivering equitable access to critical healthcare services. This milestone would not have been possible without every person in our global network working tirelessly, alongside our partners and customers, to accelerate vaccine distribution and help keep communities as safe as possible."
Through its UPS Healthcare subsidiary Marken, the carrier also supported over 130 vaccine clinical trials.
It built a 'network within a network', adding new air and ground routes to provide the infrastructure and flexibility for the transport of time-critical and temperature-sensitive vaccines, ensuring it was ready to ship the vaccines as soon as they were approved.
UPS Premier technology provided precise visibility into every single vaccine package – down to within 3 metres anywhere in the global network, while 24-hour monitoring enables it to prioritise, track and plan critical shipments like never before.
This work was all undertaken in an unprecedented amount of time and on-time delivery rate for over 1 billion vaccines to more than 110 countries has been 99.9%.
UPS Healthcare Europe vice president, Graham Cromb, told ACV: "While this vaccine rollout has seen tremendous success, the fight still isn't over. Vaccine inequality is one of society's greatest challenges and we remain dedicated to getting these vaccines where they need to be now and in the future. We're not safe until we're all safe."
He said that UPS would continue to deliver vaccines, donate freezers, provide expertise and cold chain equipment and use unique technology, such as drones, to help fight against the pandemic and support equitable vaccine distribution, adding: "Importantly, the networks we have built to successfully deliver these vaccines will play a crucial role in creating long-term value in the movement of temperature-controlled drugs and therapies."
Graham Cromb says that over 50% of all new drugs in the pipeline will be biologics, and it is projected that this global market will increase from $285.5 billion in 2020 to $421.8 billion by 2025. He said: "Our temperature-controlled facilities and cold chain transportation, packaging and building storage are specifically designed to handle biologically derived drugs, such as vaccines, at any temperature."
In the last year alone, UPS has invested in over 36,000sq m (387,500sq ft) of coolers and freezers to operate between ambient temperatures to as low as minus-80°C, and in ten new or upgraded facilities in the US, Europe and Asia. These specialized freezers are in addition to the existing 1 million sq m (10.76m sq ft) of dedicated healthcare warehouse space across 34 countries.
But since the onset of the pandemic, disparities in global infrastructure have impeded the delivery of vaccines to remote and underserved areas, says Graham Cromb. "To help close this gap, we've witnessed major advancements in the development of ultra-cold freezers and cold-chain portable packaging which are used to safely transport and store temperature-sensitive vaccines and drugs to hard-to-reach communities."
The UPS Foundation in and its partners has also successfully delivered COVID-19 vaccines to rural, hard-to-reach areas in Africa using drones. The next step is looking at how to translate this technology to highly urbanised areas and overcome last-mile challenges.