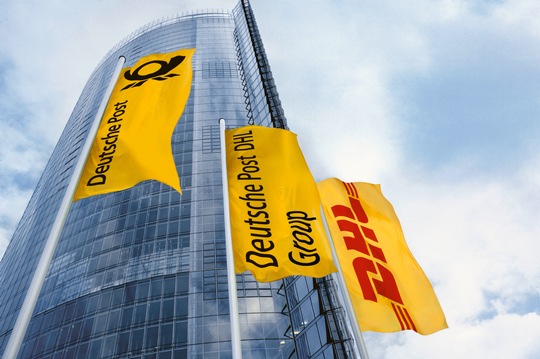 Deutsche Post DHL Group, the world's leading logistics company, once again grew profitably in the past financial year. With revenue of EUR 94.4 billion, the Group exceeded its record from previous year by 15.5%. The jump in revenue resulted entirely from the international business of the DHL divisions, despite the fact that global trade and e-commerce normalized in 2022 as expected with slowing momentum in the final quarter. Consequently, shipment volumes were slightly below the all-time high of 2021.
Thanks to flexible structures, the Group was nevertheless able to continue utilizing its global networks efficiently throughout the year. The company also benefited from the increasing demand for resilient supply chains in contract logistics and, particularly in the first half of the year, from high freight rates in the forwarding business. Overall, Deutsche Post DHL Group achieved a new record with operating profit (EBIT) of EUR 8.4 billion (2021: EUR 8.0 billion). The key driver was the positive earnings development in the internationally operating DHL divisions, which generated EBIT of around EUR 7.6 billion (2021: EUR 6.6 billion). With EUR 1.3 billion, EBIT of Post & Parcel Germany declined by around EUR 500 million compared with the prior-year result. The Group-wide EBIT margin was 8.9% (2021: 9.8%).
"We have demonstrated resilience and innovation capability in a challenging environment. Our course and strategy remain well on track. Once again, our thanks go to our employees for their extraordinary commitment in a challenging year," said Frank Appel, CEO of Deutsche Post DHL Group.
Group invests more than ever before and exceeds free cash flow guidance
Last year, Deutsche Post DHL Group invested a record sum of EUR 4.1 billion (2021: EUR 3.9 billion) in its operating business as well as in digitalization and sustainability. The Group made progress in expanding its electric vehicles fleet, which grew by 7,000 to more than 29,000 e-vehicles worldwide. Further investments were made to modernize the Express division's aircraft fleet and to build new CO2-neutral delivery bases in Germany. Investments were also made in sorting capacities and e-fulfillment solutions for the growing e-commerce business. There was an increase in efficiency due to investments in additional automation solutions.
Excluding acquisitions, free cash flow reached a new all-time high at EUR 4.6 billion (2021: EUR 4.1 billion). Free cash flow was therefore above the most recent expectation of EUR 4.2 billion and exceeded the guidance initially provided in March 2022 by around EUR 1.0 billion. Free cash flow including acquisitions and divestments amounted to EUR 3.1 billion. Payments for acquisitions and divestments totaling EUR 1.5 billion (2021: EUR 0.0 billion) focused primarily on the acquisition of the ocean freight specialist Hillebrand, whose subsidiaries were seamlessly integrated into the DHL Global Forwarding, Freight division.
The exceptionally good result is also reflected in higher net income. Deutsche Post DHL Group increased its net profit after non-controlling interests to EUR 5.4 billion (2021: EUR 5.1 billion). Basic earnings per share thus amounted to EUR 4.41 (2021: EUR 4.10).
Guidance: Group expects further growth in the medium term
In light of the continuing uncertainty about the course of an economic recovery, the Group's 2023 EBIT guidance contains three scenarios and ranges from EUR 6.0 billion to EUR 7.0 billion:
• In the favorable case of a recovery starting around mid-year ('V-shape' recovery) the Group expects EBIT of around EUR 7.0 billion.
• In case of a recovery starting more towards year end ('U-shape' recovery) the Group anticipates EBIT of around EUR 6.5 billion.
• In the least favorable case of no significant recovery in 2023 ('L-shape' recovery) the Group predicts EBIT of at least EUR 6.0 billion.
"The slowing macroeconomic growth momentum is reflected in our EBIT outlook. That is why we are acting particularly prudent in the first half of 2023 and focusing on our yield and cost management," said Chief Financial Officer Melanie Kreis.
For 2023 the company foresees a gross capital expenditure in the range from EUR 3.4 billion to EUR 3.9 billion and predicts free cash flow of around EUR 3.0 billion independent of the macroeconomic scenarios. Investments continue to focus on organic growth, strengthening global networks and expanding the product range of climate-friendly transport solutions.
With the presentation of its Annual Report, Deutsche Post DHL Group again issued a medium-term guidance. The Group expects to be able to increase EBIT relative to 2023 again. The EBIT target for 2025 is set to more than EUR 8 billion. The Group anticipates to generate cumulative free cash flow of EUR 9 to 11 billion in the period from 2023 to 2025. Over the same period, the company forecasts cumulative capital expenditure (capex) in the magnitude between EUR 10 and 12 billion.
Earnings driven by international logistics business of DHL divisions
DHL Express: Revenue increased to EUR 27.6 billion (2021: EUR 24.2 billion). Pricing measures, exchange rate effects and increased fuel surcharges were the drivers of this development. The increase in average weight per shipment also had a positive impact on revenue development, while revenue growth was slowed by a decline in international time-definite express (TDI) shipments. Nevertheless, network capacities were efficiently utilized over the course of the year thanks to the high degree of flexibility. EBIT decreased by 4.6% year on year to EUR 4.0 billion. This was mainly due to higher costs and negative exchange rate effects. Profitability remained at a high level with an EBIT margin of 14.6% (2021: 17.4%).
DHL Global Forwarding, Freight: This division achieved a significant jump in revenue and earnings in 2022 thanks to operational improvements and high freight rates. EBIT increased significantly to EUR 2.3 billion (2021: EUR 1.3 billion). Revenue jumped sharply to EUR 30.2 billion (2021: EUR 22.8 billion). Air freight volumes were down 9.3% year on year, while road freight shipment volumes declined by 4.8%. In ocean freight, transport volumes grew by 4.8% due to the integration of the beverage logistics company Hillebrand. The division's EBIT margin improved to an exceptionally high level of 7.6% (2021: 5.7%).
DHL Supply Chain: Demand for reliable supply chains increased once again in 2022. The division recorded its strongest ever figures for new business, which amounted to annualized revenue of approximately EUR 1.5 billion in 2022 (2021: EUR 1.4 billion). High demand pushed revenue up to a total of EUR 16.4 billion in 2022 (2021: EUR 13.9 billion). EBIT reached a strong level of EUR 893 million (2021: EUR 705 million) and the EBIT margin increased to 5.4% (2021: 5.1%). The division continued to standardize its processes, and implemented additional digitalization and automation projects, thus achieving further efficiency improvements. DHL Supply Chain has also further strengthened the establishment of dedicated e-fulfillment sites. The acquisition of a majority stake in the Dutch company Monta in the fourth quarter 2022 is intended to further accelerate growth in e-commerce.
DHL eCommerce Solutions: Following strong growth in the previous year, the division was able to maintain revenue in 2022 at the new level. Revenue climbed to EUR 6.1 billion (2021: EUR 5.9 billion), driven mainly by pricing measures. The expected normalization of shipment volumes materialized, with a 6.3% decline in parcel volumes. India recorded an encouraging increase in parcel volumes. Network utilization remained good. However additional inflationary driven cost increases had a negative impact. The division nevertheless closed the year profitably, with an EBIT margin of 6.3% (2021: 7.0%). At EUR 389 million, EBIT was moderately below the previous year (2021: EUR 417 million).