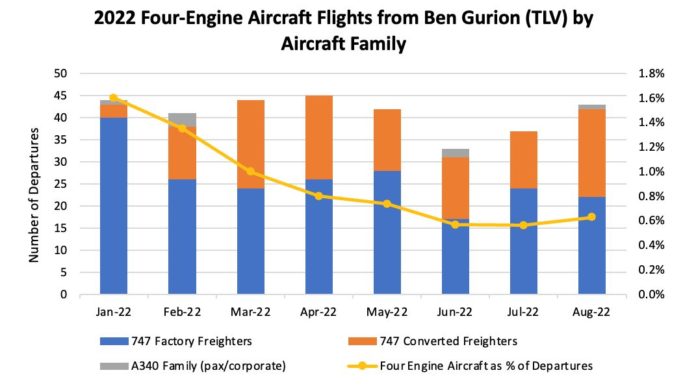 Israel's recently announced ban on four-engined aircraft could affect El Al, says aviation market intelligence and consulting company, IBA. It says that with the widespread demise of the passenger-carrying Boeing 747 following the Covid pandemic, the biggest impact of the ban is likely to be on the converted 747 freighter aircraft operated by the Israeli flag carrier. IBA adds that although the ban is mandated to come into effect from March 2023, it operators may be discouraged from operating such aircraft even sooner.
Mike Yeomans, director – valuations and consulting at IBA, comments: "According to IBA Insight, around 98% of four-engined aircraft departures from Tel Aviv this year have been freighters. Four-engine passenger aircraft numbers are dwindling, and few still operate from Tel Aviv following the withdrawal of El Al's Boeing passenger 747 fleet from service in 2019.
"According to early reports, there are likely to be some exemptions under a licence agreement. IBA predicts that such exemptions will be applied to Boeing 747 factory freighters, as there is no viable alternative aircraft for oversized air freight."
IBA believes that the ban will most likely affect the converted Boeing 747 fleet. This in turn will drive demand for the new generation of converted twin-aisle widebodies, including the Boeing 777-300ERSF, which is being developed by Israel Aerospace Industries (IAI) and AerCap. According to IAI, the 777-300ERSF will offer 15% more volume than the 747-400BCF, and 21% lower fuel burn compared with the 747-400F. If more countries and airports adopt similar stances on four-engine aircraft, the 777-300ERSF and its contemporaries should benefit.
The Airbus A350F and the Boeing 777-8 Freighter are expected to enter service in 2025 and 2027 respectively, with the former firmly targeting the replacement market for ageing Boeing 747 freighters.