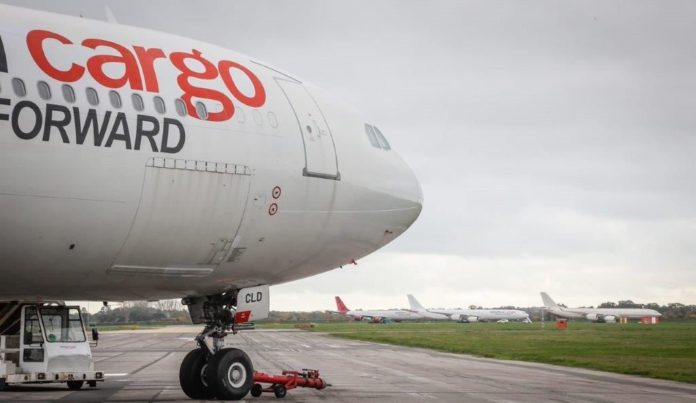 Bournemouth Airport-based European Cargo has received EASA (European Aviation Safety Agency) certification for its Airbus A340 wide-bodied freighter conversion programme. The company plans to complete six freighters in early 2023, with options on a further six.
Two have already been completed and one more was in progress in late December.
European Cargo's fleet is made up of former Virgin Atlantic and Etihad Airbus A340 passenger aircraft. Its first conversion is an ex-Virgin A340-600, once the world's longest airliner stretching to 247 feet.
The EASA certification paves the way for a similar assessment by the UK's Civil Aviation Authority (CAA), with European Cargo hoping for the green light in the New Year.
The conversion process has involved the removal of all bulkheads, rear galley and toilets and replacing them with 39 pods in six different sizes. Each pod is covered by a fire containment bag tested to withstand a lithium battery fire for six and a half hours.
Managing director Iain Edwards (pictured, below) said: "EASA certification is a landmark moment in the development of our fleet. Our pod containment system has proven itself through a rigorous testing regime and means we are on track for full cabin utilisation, giving each aircraft a combined belly and cabin capacity of 77 tonnes or 450 cubic metres.
"With six freighters already at Bournemouth for conversion and a further six available to us, that catapults us into the No1 slot of UK-based wide-bodied carriers by some margin. And it makes Bournemouth Airport a huge contender in the UK air freight market."
Managing director at Bournemouth Airport, Steve Gill, added: "Further CAA approval paves the way for the introduction of hundreds of tonnes of global freight capacity from Bournemouth in the New Year. Combined with our location just 90 minutes from London, we think 2023 will be a transformative year for air cargo operations at Bournemouth Airport."