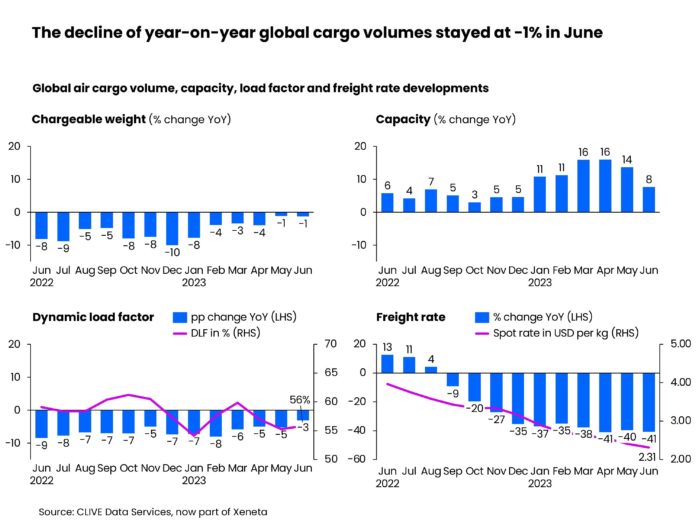 The decline in global air cargo volumes eased again in June but the 'fear-of-missing-out' created an irrational airline and freight forwarding market as shippers indulged in a 41% year-on-year fall in the general airfreight spot rate, said industry analysts, CLIVE Data Services, part of Xeneta.               
Air cargo capacity rose 8% year-over-year in June but despite this surge in availability, the drop in global chargeable weight stayed at -1%, repeating the market performance seen in May. However, the -41% fall in the market average took the global air cargo spot rate down to US$2.31 per kg.
Xeneta chief airfreight officer Niall van de Wouw, said June's air cargo data demonstrates the jumpiness in the market. "The surprise in June is the difference between the sentiment in the market and what the actual data is showing us. It is getting pretty nasty out there and stress levels among airlines and forwarders are clearly rising, but we see a clear distinction between market sentiment and market fundamentals and sentiment is more negative right now.
"Airlines and forwarders are getting jumpy because of falling rates, not so much the volumes. It's the fear-of-missing-out that is driving the aggressive drop in cargo rates because no one wants to lose volumes, and they also want to get more of the cargo that's in the market. We can see forwarders taking big risks," he said.
A slowing decline in volume and a slowdown of capacity growth versus previous months protected against a big drop in dynamic load factor in June, CLIVE's market analysis measurement of cargo load factor based on both volume and weight perspectives of cargo flown and capacity available. It fell at a slower pace of 3 percentage points year-on-year to 56%, a 1 percentage point recovery on the May level.
Looking into major freight corridors, Xeneta's latest market data shows that the average spot rate level from Northeast Asia to the US remained 70% above its pre-pandemic.
The Europe to the US air cargo spot rate experienced a large decline of 14% month-over-month to US$1.92 per kg in June, down 45% from a year earlier. It is the only corridor among the three sectors referenced where the air spot rate (valid for up to one month) fell below its seasonal rate (valid for longer than one-month).
The air spot rate from Northeast Asia to Europe of US$3.25 per kg in June was down 1% from a month earlier, and 55% down year-on-year. The Northeast Asia to US air spot rate, in contrast, rose 3% from a month earlier to US$4.19 per kg, but this still represented a fall of 49% from a year ago.
Sentiment on the seller side of the market appears to remain pessimistic. Some freighter airlines are currently undertaking major reviews of their route and capacity strategies as demand for all-cargo aircraft returned to pre-pandemic levels due to the recovery and availability of belly capacity.
Freight forwarders still 'handcuffed' by high airfreight rates locked under BSA (blocked space agreements) with airlines, are also facing growing pressure from shippers pushing to relaunch tenders to negotiate freight rates down to the new market level, inspired by the aggressive pricing policies of other forwarders trying to gain their volumes.
This can be seen in the shipper contracts negotiated in the second quarter. Xeneta saw 6-month and 6+ months contracts gaining more ground as the airfreight market continues to normalize. The 6-month contract remained the most preferred option for shippers, accounting for over one-third (37%) of all valid contracts existing in Q2. The 6+ months contract also gained in popularity, with a share of 28%. The most time-consuming spot market negotiation option shrank from 25% in the second quarter of last year to only 14% in the corresponding period in 2023.
Looking ahead, the summer months air growth will likely remain muted, given the continuing uncertainties around the market. The possibility of no peak season in the ocean freight market could provide a boost to air cargo's recovery later in the year if shippers need urgent shipments or consumer spending suddenly picks up. However, Xeneta expects any airfreight peak will be short-lived and not at the level seen previously.
"The air cargo market is a toxic mix at the moment. We see some forwarders agreeing to 12-month fixed rates with shippers, including fuel, that are lower than the rates we see in the market overall. That is nearly 'going to Vegas' in terms of risk, but forwarders are anxiously looking to secure volumes in the face of fierce competition. Shippers we are talking to are, in general, not looking for a massive overhaul of their supplier base, but they do want to see a benefit because rates and market conditions are so much lower than they were 6-9 months ago.
"The big question now for carriers is do they go for margin or volume? No one wants to be flying empty, and even the most respected airlines seem to be recognizing they have to join the game because if they keep their rates at a high level, they just won't get the volume. Two years ago, airlines were asking 'what am I going to do with my belly aircraft' and now it's a case of 'what am I going to do with my freighters?' It's going to be a long summer for airline cargo departments, and it looks as though it will take a few quarters for the market to move away from the current irrational pricing environment," van de Wouw added.