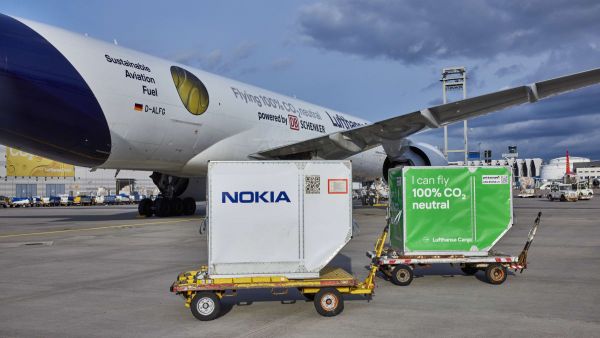 DB Schenker and Lufthansa Cargo will extend their weekly CO2-free freighter flights between Frankfurt and Shanghai through the winter schedule until March 2022 and has signed up phone maker Nokia to the initiative.
The partners say the flights are the only ones in the world that use Sustainable Aviation Fuel (SAF) exclusively. The fuel is produced from renewable waste, such as used cooking oils.
Over the next five months, Nokia will ship 10 tons of communications network equipment a week from a production facility in Shanghai to its European hub in Tilburg in the Netherlands.
The CO2 released during combustion in the engine is only the CO2 which was removed from the atmosphere during the photosynthesis phase of the plants used to produce the oils. However, SAF is currently around three times more expensive than conventional fossil kerosene. In the future, other types of renewable fuels will also be available including power-to-liquid fuels (PtL) based on renewable electricity, water, and CO2.
The SAF used for the flights is produced by Finnish firm Neste which is will increase its production to 1.5 million tons a year by the end of 2023.