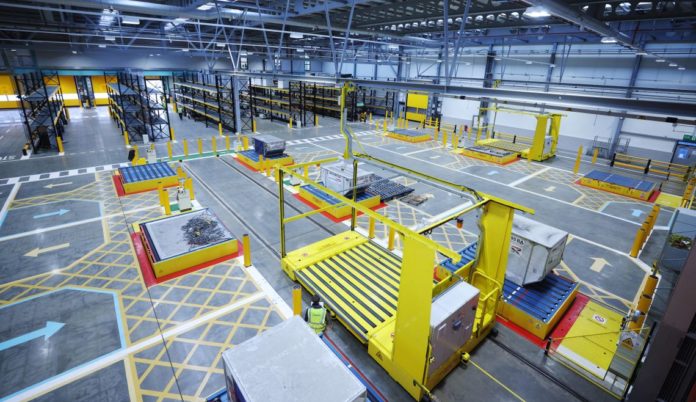 It's been a long time in the making – work started in 2018, before the Covid pandemic hit – but IAG Cargo's New Premia building at London Heathrow airport is now officially open for business.
Part of a £100 million investment in cargo facilities in London for, it adds not only more capacity for premium loose shipments at the IAG group of airlines –British Airways, Iberia, bmi, Aer Lingus, Vueling and Level – but more importantly ushers in a whole way of working for the group's cargo arm.
According to IAG Cargo, the new building will greatly enhance the carrier's capacity and ability to service customers, particularly in the pharma segment. As well as a new physical facility, New Premia also offers greatly enhanced processes with a new design that will optimise cargo flows through the premises, together with more automated handling systems that have been fully integrated with the warehouse management system.
Four large transfer vehicles service 20 new workstations, passing through rapid-rise doors allowing cargo to be moved autonomously through the facility and into storage in advance of collection and delivery to the aircraft for exports and in reverse for imports. The system is fully integrated with IAG Cargo's existing Warehouse Management System –the first time that this integration has been delivered.
Whereas the old Premia building generally built up cargo one flight at a time, the new facility can work much more proactively, building up freight in advance where possible and helping to smooth out the often very prominent spikes in air cargo activity.
Outside, the road traffic system has been completely redesigned with a new one-way system. Large electronic screens call forward trucks to the allocated door and, in place of the old system that allocated randomly, the new operation allocates doors that are appropriate to the type of cargo or flight.
At the time of writing in late May, IAG had started to transfer flights to the new building. New Premia in fact handled its first cargo in 2022, but without the benefit of the new automated systems which are now being brought on stream. Transition to the new building is expected to be completed by the third quarter of the year.
New Premia is temperature controlled throughout with blowers at the doors to maintain the correct internal temperature. The building itself can be maintained at 15-20°C but it also incorporates a full Constant Climate temperature controlled area that offers precisely controlled temperatures.