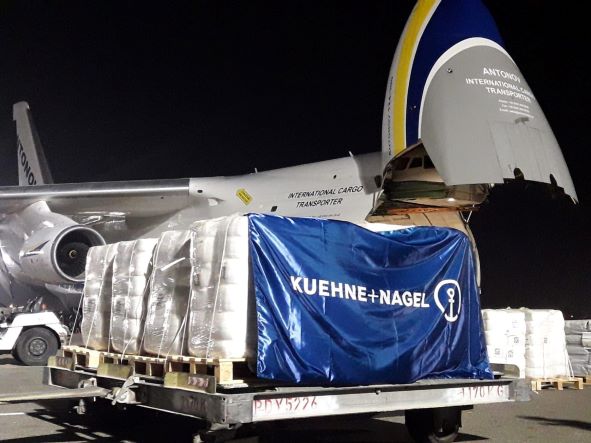 It's no secret that Kuehne+Nagel's Emergency & Relief logistics team in Copenhagen is managing aid logistics efforts for NGOs and humanitarian organizations of all sizes. However, they don't stand alone in this endeavor. Relying on K+N's international network is, in fact, one of the reasons why the team can swiftly and expertly tackle the biggest and most urgent crises around the world.
While March 29th's Antonova charter for UNICEF could count on the support of the local air logistics teams at origin and destination (namely Sharjah (UAE) and Warsaw (Poland), another Antonov charter from Karachi (Pakistan) delivered 640 pallets of aid to Bucharest (Romania) on April 4th. Among the goods were 30,720 thermal blankets for people fleeing the conflicted areas in the current cold weather conditions.
Once again, the local Kuehne+Nagel teams were indispensable in ensuring an uninterrupted supply chain. While the Emergency & Relief logistics team in Denmark manages the charter bookings, local colleagues coordinate the ground handling, cargo loading and release as well as related procedures to ensure smooth operations on origin and destination sides. Not to mention the team members who plan other modes of transport to get the goods to disaster-stricken areas. It is all about teamwork and care.
Besides these efforts, Kuehne+Nagel Hungary has also erected two temporary crisis warehouses, at the Debrecen airport and in the vicinity of it, for the International Committee of the Red Cross (ICRC). From here, humanitarian aid for Ukrainian refugees people affected by the conflict in Ukraine can quickly reach its destinations by truck and plane.