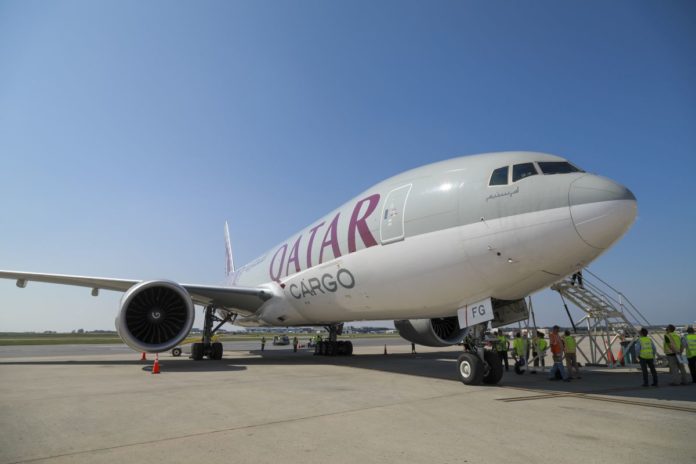 Qatar Airways inaugurated its Gateway Star route linking Mexico to the Middle East at Huntsville International Airport (HSV) on 7 September. The Boeing 777 arrived in Huntsville from Mexico City to a water cannon salute at DSV's International Intermodal Center at the airport, bound for Luxembourg and its final destination of Doha.
The Gateway Star route will fly twice weekly, and the venture is a collaboration between the carrier and DSV, which is responsible for cargo loading and management.
Port of Huntsville chief executive, Butch Roberts, said: "Huntsville will not only be DSV's North American hub linking Mexico City and Doha, Qatar, via Luxembourg, this opportunity will facilitate swift, efficient cargo movement to the Middle East and beyond," adding: "Our International Intermodal Center's reputation as a convenient, economical choice to do global business is contributing significantly to this new venture's success."
The Gateway Star route also marks Qatar Airways Cargo's first entry into Alabama airspace.
DSV executive vice president, Mads Ravn, commented: "By collaborating with Qatar Airways Cargo, we not only extend our market presence but also create avenues for seamless access to the Middle East with a keen focus on boosting our oil and gas vertical."
The Port of Huntsville is an inland port facility comprised of Huntsville International Airport, the DSV-operated International Intermodal Center, Jetplex Industrial Park, and four contract operations including a Foreign Trade Zone. It has two parallel runways, one 10,000 feet and one 12,600 feet, with a 5,000-foot separation allowing for simultaneous operations during instrument conditions.
The International Intermodal Center is an inland port of entry for international air cargo flights and ocean containers arriving by rail while Jetplex Industrial Park, the IIC offers Customs & Border Protection clearance, on-site freight forwarders and customs brokers and a Foreign-Trade Zone.