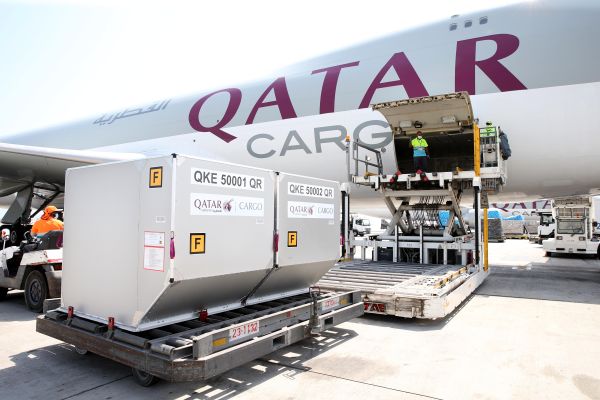 Qatar Airways has become the first cargo carrier to adopt Safran Cabin's new Fire Resistant Container (FRC) taking delivery of an initial batch on 29 September in Doha, Qatar.
Over the next five years, it will replace its entire fleet of more than 10,000 ULDs with the design, aiming to exchange 70% of the units during 2022.
Qatar Airways Cargo said its decision stemmed from the increased risk posed by lithium battery shipments.
Chief officer cargo, Guillaume Halleux, said: "We were looking for a solution that prevents incidents in containers used for the handling and storage of baggage, as well as the transportation of cargo goods. Thorough testing has validated the absolute fire resistance of Safran Cabin's new FRC containers, and we are very pleased to roll out this solution in our belly-hold fleet within such a short period of time."
It is precisely these rising concerns amongst airlines about the safe transportation of lithium-ion batteries and related goods such as smartphones, that prompted Safran Cabin to extend its portfolio with a Class-D Fire Resistant Container, complementing its
Safran Cabin's new containers are Class-D, designed to resist a lithium-based fire for six hours, and have a SEN (Secure, Ergonomic, and Non-Velcro) door made of high impact resistant materials, making it easy to maintain. Existing Class-A containers are proof only against fires in ordinary combustibles, such as paper and cardboard.