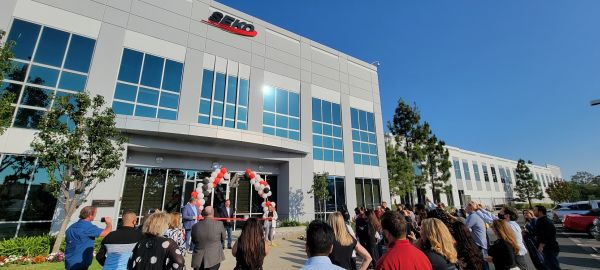 SEKO Logistics a new facility at its LAX Campus close to the Port of Long Beach and Los Angeles International Airport, increasing its total footprint in southern California to over a million square feet.
The new Class A building is one of two new facilities adding over 300,000sq ft of additional warehouse space. The second warehouse in the new complex will open in early 2022.
SEKO's new LAX Campus is 15 miles from Los Angeles airport and eight miles from the Port of Long Beach. The first building adds a further 189,000sq ft to SEKO's existing warehouse operations in southern California.
It incorporates 40 truck doors, a mezzanine floor dedicated to ecommerce order picking, over 35,000 storage locations and 5,300 racking positions. The second building will increase SEKO's footprint by a further 110,000 sq ft and expand capacity to 70,000 storage locations and 15,000 racking positions.
The new location serves SEKO's broad service portfolio, acting at a multi-client ecommerce fulfilment center with a dedicated mezzanine floor for order picking, and a hub for SEKO's freight forwarding, air freight, ocean freight, cross-border and white glove solutions. It will also manage SEKO's US domestic truck distribution network, which has accelerated since ocean carriers reduced their own inland service offerings.
SEKO president and chief executive, James Gagne, said: "Southern California is a strong location for us, so getting an additional warehouse complex of this size and quality so close to the port and airport is a big deal for SEKO and our clients, especially in such challenging times. It will enable client growth in the region and across the US."