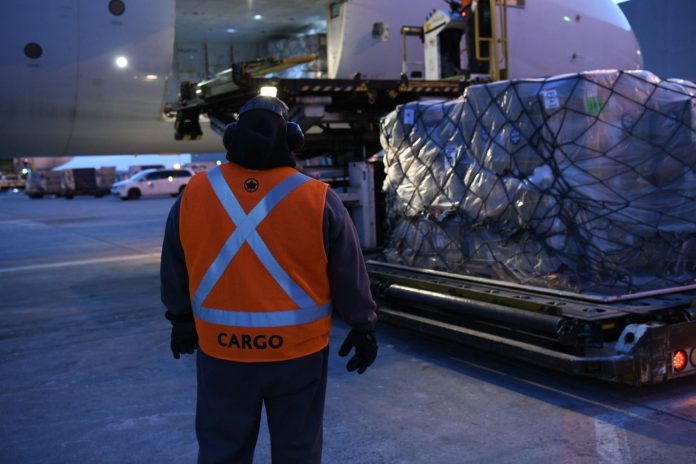 Air Canada has joined forces with disaster logistics organisation Airlink, relief organization Project C.U.R.E and freight forwarder Flexport to send hospital beds, humanitarian and medical supplies to Ukrainian Refugees in Poland.
The cargo was loaded on board an Air Canada Boeing 787-9 Dreamliner on 9 March, along with . medical and trauma supplies destined for a Ukrainian hospital provided by Canadian disaster relief organization GlobalMedic.
Project C.U.R.E. will manage the distribution of supplies to hospitals and help to expand capacity in border regions where more than two million people have now fled.
Air Canada cargo vice president, Jason Berry, said: "Our hearts are with the Ukrainian people in need – all of us have seen the crisis they are facing. We know from our aid partners the critical requirement for much needed medical and humanitarian supplies and our global partner Airlink reached out to us to help transport these vital items quickly. Importantly, both Airlink and GlobalMedic have the infrastructure and teams on the ground to ensure that the shipments will get to their destinations right after our flight arrives. We are proud of our employees who have stepped up to help organize the complex logistics, handle and operate this special flight so quickly," said Jason Berry, Vice President, Cargo at Air Canada.
Airlink president and chief executive Steve Smith added: "This shipment will make a material impact on the lives of Ukrainians fleeing the conflict and support the communities hosting them. Getting the shipment to Poland on behalf of Project C.U.R.E. meant overcoming a challenging logistical environment, but I'm thrilled we could do it with assistance from our long-time friends and supporters Air Canada. This is the first of many cargo movements Airlink will carry out in support of Ukrainian refugees."
Executive director at GlobalMedic, Rahul Singh, said: "We are grateful to our friends at Airlink and Air Canada for giving us air cargo space to ship essential medicines and trauma supplies. The aid will land in Warsaw where our partners will grab them and truck them to a hospital in Lviv. Essential medicines are needed by patients fleeing the fighting who could not bring their prescription medicines with them and are facing shortages in local pharmacies. Trauma supplies especially dressings are needed to treat victims of this war."
Earlier, medical supplies were picked up from the Project C.U.R.E. warehouse in Illinois, transported to Chicago O'Hare airport and tendered to Air Canada by Flexport. Air Canada Cargo subsequently transported the supplies to its Cargo facility at Toronto Pearson International Airport.