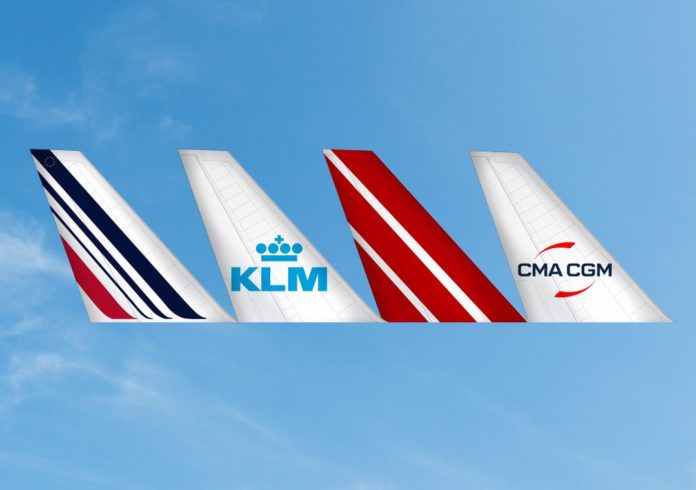 Air France-KLM has signed the long-term strategic air cargo partnership with shipping and logistics operator CMA CGM Group announced in May 2022. With an initial duration of 10 years, the two companies will combine their cargo networks, full freighter capacity and dedicated services.
The agreement has received all regulatory approvals, but currently excludes the US, Canada, Mexico, Russia, Turkey and Mauritius.
It will leverage Air France-KLM's air cargo capabilities, especially for specialized cargo such as pharmaceuticals, perishables or express, through its hubs at Paris-Charles de Gaulle and Amsterdam Schiphol. For its part, CMA CGM will mobilize its commercial network and global logistics platform.
The deal will allow the two groups to benefit from greater freighter and belly capacity, a more extensive network, a mix of scheduled and charter flights, improved transit times and flexibility and tailored connections across the world. Customer support will be enhanced through a global network of agencies, and a specialized service desk will address specific requirements, including a dedicated desk for large shipments.
Customers will have direct access to a myCargo dedicated online platform and online booking. CMA CGM flights have been available for booking on myCargo since 20 March and the platform allows customers to book and combine flights operated by Air France, KLM, Martinair or CMA CGM Air Cargo.
The two operators' combined capacity currently consists of up to 12 full-freighter aircraft, six operated by CMA CGM Air Cargo, initially based at Paris-Charles de Gaulle airport (and with outstanding orders for an additional six aircraft,) and six from Air France-KLM based at Paris – and Amsterdam Schiphol (with outstanding orders for eight aircraft, mainly replacing the existing fleet).
The commercial partnership also covers Air France-KLM's belly aircraft capacity, including over 160 long-haul aircraft.
Both groups have committed to Net Zero Carbon by 2050 replacing older planes with next generation aircraft such as the Airbus A350F, and through the use of Sustainable Aviation Fuels (SAF). In December 2021, Air France-KLM launched the world's first SAF program for the air cargo industry, aimed at freight forwarders and shippers.
The CMA CGM Group will also create a Fund for Energies, backed by a five-year, US$1.5 billion budget, and a dedicated team, to accelerate the energy transition and achieve Net Zero Carbon by 2050. The Fund support the industrial production of new fuels, as well as low-emission mobility solutions across the Group's business base.
Air France-KLM Group executive vice-president and cargo and cooperation lead, Adriaan Den Heijer said: "It will accelerate the expansion of our cargo business, a strategic activity for the Air France-KLM Group, by opening up a wide range of new opportunities With our experienced and dedicated teams and a powerful distribution platform, we look forward to further transforming the future through this partnership."
CMA CGM Air Cargo chief executive, Guillaume Lathelize added: "Our commercial joint-venture with Air France KLM Martinair is now effective. CMA CGM AIR CARGO is France's leading full-freighter airline, and operates six aircraft. The company has demonstrated its flexibility and agility with scheduled services and charter solutions for key logistics players. Our partnership will combine the best of both worlds: flexibility, agility and world class expertise for regular and dedicated service."