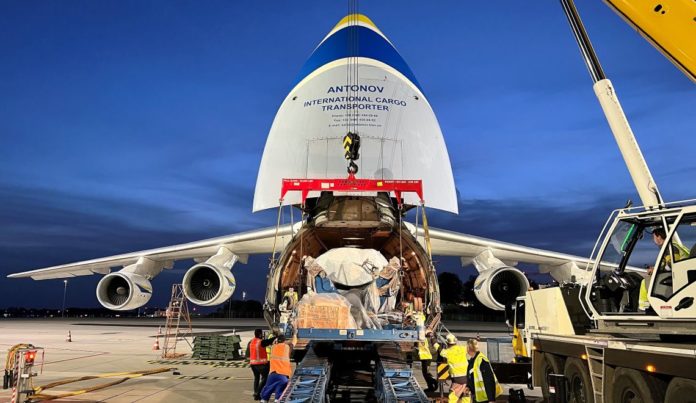 Antonov Airlines and broker Air Partner have moved an aircraft engine and critical tooling from Luxembourg to Lajes island in the Azores, on board one of the Ukranian carrier's AN-124-100M aircraft.
The cargo weighing about 75 tonnes was loaded using the aircraft equipment and an external 48-ton mobile crane sourced by Air Partner which was also was loaded onto the AN-124-100 due to the lack of suitable equipment on the island.
The AN-124-100 then flew to Stansted airport with the unserviceable engine, empty stand and mobile crane onboard. The mobile crane was repositioned back to the base in the Europe, and the unserviceable engine and tooling trucked to Amsterdam for onward scheduled flights.
Antonov Airlines commercial executive, Serhii Bilozerov, said: "It was a very interesting and unusual project. Challenges we met during this transportation kept all the teams on a little stress. Thanks to Air Partner`s and Antonov`s highly professional specialists we successfully delivered the sensitive cargo to the destination."