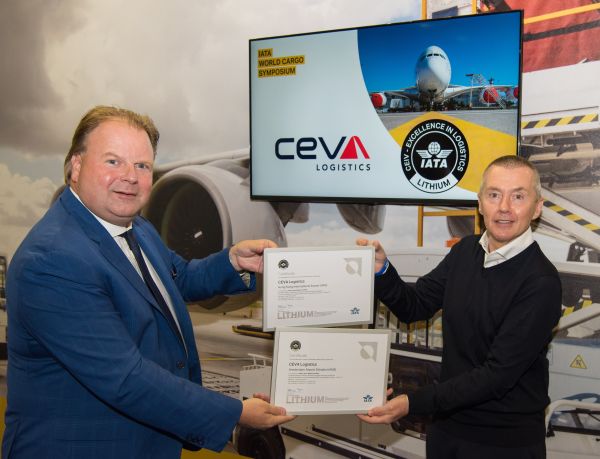 CEVA Logistics said it had become the world's first company to receive IATA's new CEIV Lithium Battery certification at the association's annual World Cargo Symposium (WCS) in Dublin, Ireland on 12 October. The initial certification covers the forwarder's Amsterdam and Hong Kong air freight stations but there are plans to extend it to additional locations in Europe, Asia and the Americas.
The certification confirms each facility's ability to properly handle and store lithium batteries, as well as validating training and expertise of employees.
CEIV Lithium Battery is the fourth CEIV program from IATA, the others being for pharma, live animals and fresh produce. More than 300 companies across the logistics and supply chain industry have received certification under one of the programs.
Chief operating officer of air freight for CEVA Logistics, Peter Penseel, said: "Our experience in transporting a wide range of batteries made us an ideal partner with IATA in piloting their new CEIV certification. IATA continues to lead the way in providing standards, regulations and guidelines to improve overall quality and safety in the air transport industry. This new certification gives customers even more confidence in our ability to safely and reliably transport their lithium batteries."
IATA director general Willie Walsh, added: "Congratulations to CEVA for becoming the first logistics company to achieve CEIV Lithium Battery certification in their Amsterdam and Hong Kong hubs. As a pioneer in the CEIV Lithium Battery program their customers will appreciate their dedication to safely handling their shipments and the industry will benefit from the quality benchmark that they are helping to set."