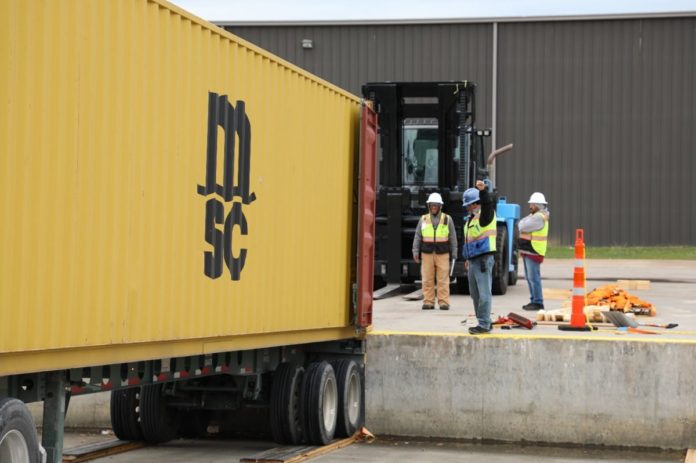 German-owned forwarding and logistics company Deugro has opened a 96,775sq ft operations and logistics terminal in Baytown, near Houston, Texas.  It includes 7.3 acres of paved and fenced hardstanding, suitable for cargo storage along with access to the Houston Ship Channel, local ports and major highways.
The facility is equipped with 24/7 CCTV and alarm monitoring security systems, is climate-controlled and has advanced real-time automated inventory management, including line-item checking, tracking, and material receipt. IT solutions offer control and visibility at line-item level and documentation generation for commercial invoice and packing list generation.
The terminal offers long-term and short-term storage solutions, including palletized or bulk storage and 'out-of-the box' solutions for storing industrial and oil field services equipment.
Full packing services are available on site, including customized export crating, casing, container packing and unpacking, and cross[1]docking. The facility is powered by renewable energy sources.
Handling equipment ranges from 3,000 to 55,000lb capacity forklifts and there are two high, all-weather container loading docks, an oversized cargo door for cargo and 14 grade level overhead doors.
The outdoor secured hardstanding has laydown areas, including six dock high truck wells.
Global head of supply chain logistics, Deugro USA, Jeff Smith, said: "Deugro is starting a new chapter of growth and prosperity— providing seamless logistics solutions, climate-controlled warehousing, and customized packing and crating in the operational environment of a true project freight forwarder."
President – North America at Deugro USA, Tobias Schultz, added: "Deugro USA's new Operations and Logistics Terminal in Baytown marks a significant milestone in our commitment to delivering top[1]tier logistics solutions. With tech-driven facilities and a strategic location, this expansion ensures we can provide out-of-the-box, bespoke solutions for handling and storing project assets, including industrial and oil field services equipment.
Our state-of-the-art inventory management, coupled with a committed team prepared for rapid order fulfilment, is geared toward providing our clients with unparalleled advantages in the industry."